"The ingredients list inside this toner is amazing! The Clarifying Toner really balances out the pH." Caroline H.
"Game changer! This toner prepares my skin for the rest of the lineup. My skin feels primed and less oily." Jamie C.
"Pores have definitely reduced. My skin feels much clearer!" Ellie H.
"My face feels extra clean and hydrated after using the toner." Adelle C.
Clarifying Toner hydrates skin, tightens pores and balances the pH of your skin without harsh ingredients.
Benefits:
Rosewater and Cucumber Water soften & hydrate the skin
Witch hazel tightens pores
Only seven items in the ingredient list
You will notice that your Clearly Basics products absorb better after using Clarifying Toner.
Clarifying Toner
38 Reviews
$29.9
Each 100ml bottle is designed to last 3 months. That's $0.3 per day for 3 active ingredients.
If you have clogged pores, Clear Out will do the heavy lifting to shrink enlarged pores as compared to any toner.
Get a recommended set for extra savings.
GET A FREE ASSESSMENT
Want personalized recommendations? Chat us via Facebook or Instagram and get skincare advice from our specialists. We're committed to help.
Reviews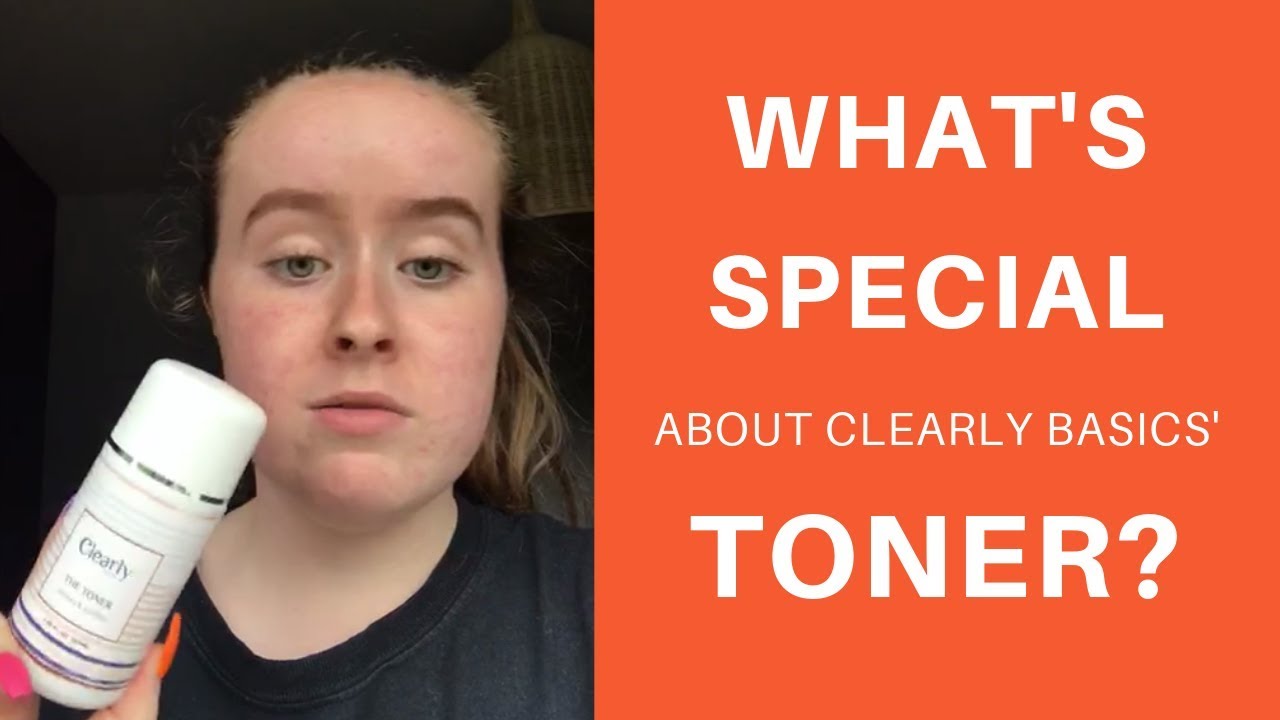 Review of the Toner
Emma @by.emmataylor explains how the Toner primes her skin for better absorption of next formulation you apply. It is a gentle and hydrating formulation that tightens up your pores.
Individual results may vary
| | | |
| --- | --- | --- |
| 5 star | | 68% |
| 4 star | | 26% |
| 3 star | | 5% |
| 2 star | | 0% |
| 1 star | | 0% |
Ingredients
Prime your skin's pH for better absorption of other products in your skincare routine. The witch-hazel plant is a natural astringent and antioxidant that soothes and cleanses the skin. This toner tightens pores, calms redness, and gently cleanses excess oil off our face when you want a break from chemicals. Cucumber extract and rose water are added for extra TLC.
What it is formulated without:
Fragrance-, colorant-, paraben-, lanolin-, silicone-free. PETA certified vegan and cruelty-free. This non-comedogenic formulation is freshly made in Singapore and contains minimal preservatives.
Key ingredients
Witch Hazel
A natural astringent and antioxidant that helps to calm redness and excess oil.
Benefits
Powerful antioxidant
It contains many compounds with potent antioxidant properties, including gallic acid and tannins. Dr Thring et al, 2011
Reduces skin irritation
Research suggests that applying witch hazel topically to sensitive skin may be beneficial in the treatment of irritated skin. Dr Hughes-Formella et al
Refines pores
Acts as an astringent, causing your tissues to contract to help shrink pores, while also soothing your skin. Dr Leena et al, 2014
Cucumber Water
Primes your skin for the next formulation that is applied.
Benefits
Primes your skin


Skin's ideal pH is 5.5, which is slightly acidic. When it's balanced on 5.5, then skin is working to it's optimum.

Contains antioxidants


Cucumbers contain a number of powerful antioxidants, which can help protect cells from damage.
Rose Water
Gentle and hydrating, rose water has been used as a beauty product for thousands of years. It can improve your complexion and calm redness.
Benefits
Contains antioxidants


Rose petals and rose oil contain a number of powerful antioxidants, which can help protect cells from damage.

Calms redness
Research suggests that the antibacterial properties may help reduce acne. It also calm puffiness and irritation. Dr Boskabady et al, 2011
Volume: 100ml, 3.38 fluid ounces.
Each bottle is designed to last 6 weeks being applied twice daily.
Full Ingredient List +
water, witch hazel, glycerin, cucumber extract, rose water, phenoxyethanol, ethylhexylglycerin
Application Instructions
Use the Toner after washing your face and before using other lotions or serums.
The pat method: Place two-three drops on the palm of your clean hands and rub together. Pat the toner across your face and neck.
The pad method: Soak your cotton ball or cotton pad with toner and gently sweep across your face.
#ClearlyResults
See what others have to say about Clearly Basics.

Individual results may vary with all before/after images on this page